Proud beings: No doubt that men are complicated and difficult to understand. They have a tendency to let their pride and ego stand in the way of the possibility of happiness. Direct expression of emotion is totally out of the question, most probably deriving from the childhood memories of being a silly if you show any feeling. However some pretty obvious signs he likes you.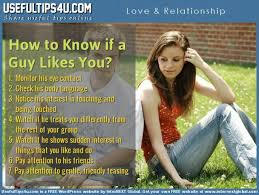 No way to hide: When it comes to love and being in love they are just unable to totally conceal the deep embedded going on's of the heart, even if they try to hide it the denial and inner fight will make it more obvious. If he likes you, you will know. Actions speak louder than words ever can, so just watch his actions and re-actions and you will know.
Body Language: Body language is the number one giveaway of his feelings. Eye contact will be significantly more than normal with possibility of pupil dilation. Imitation of your movements, nervousness and blushing,yes blushing are very common signs that he is crazy about you.
Friend and colleague giveaways: Open staring, pointing and discussions about you with friend or colleagues are sure tell tale signs that he likes you, maybe even more than just like. If he feels comfortable enough to talk about you to the people he shares his work and relaxation time with, you are in the love hot seat. Out of the full heart the mouth sings.
Rather avoidance than rejection: Men have an natural fear for rejection no matter in what shape or form. They would rather risk losing out on you than to be rejected by you. When he avoids you don't just assume that he does not like you. Look at other signs that he likes you as avoidance may merely be his natural defence mechanisms kicking in.
Don't force: Don't use force to get the words love or in love out of a guy. The force can just have the opposite effect and send the guy packing or worse running. It has the possibility of making you look desperate or like a fool. Men don't like to be rushed, when he is ready he will say the words you have been longing so long to hear. The longer it takes the more the chances are that its deep and honestly from the heart. Be cautious when a guys says "I love you" to quickly.